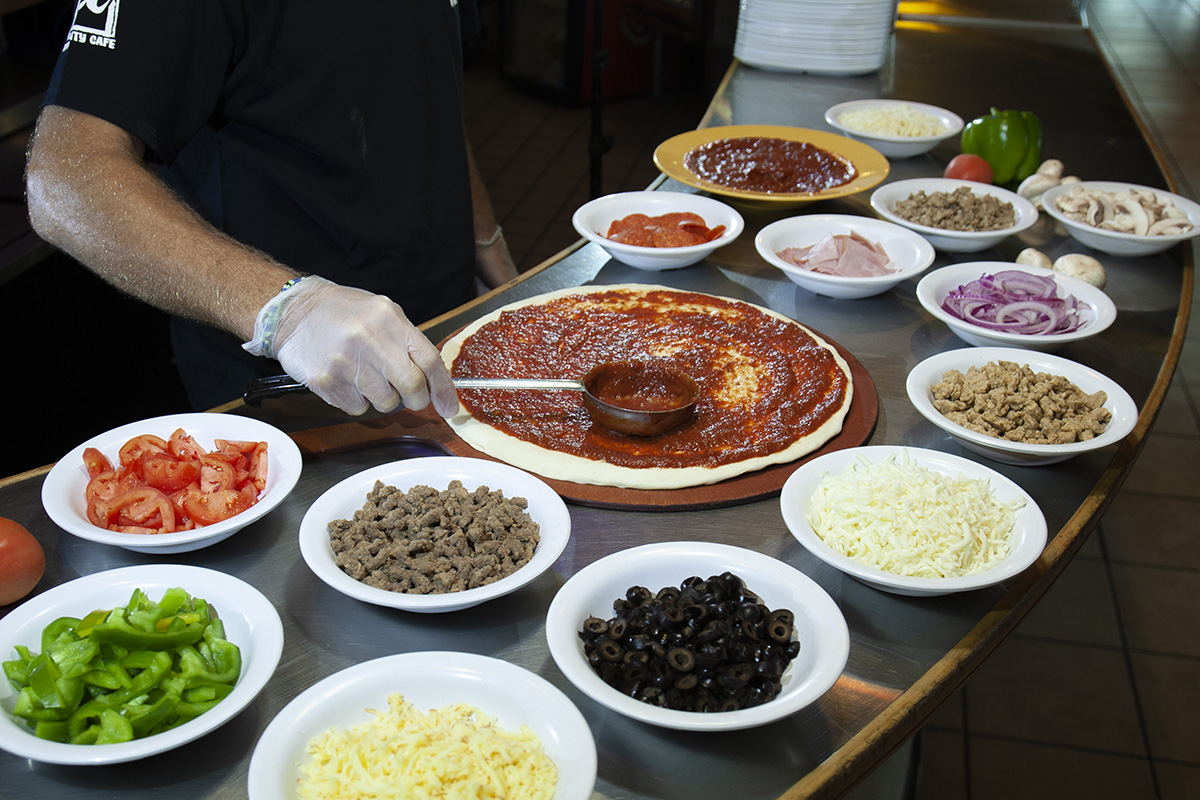 Toppings, Toppings, Toppings Galore! At Ultimate California Pizza, you won't find a shortage of offerings when it comes to the toppings we use to create our pizzas. We put a great deal of effort into choosing every item and every combination that makes it to our menu.
This summer we brought a few back to the menu, changed a few things, and added some new pizzas as well. Last month we talked about the triumphant return of The UCLA and The Lite Works, discussed some new additions like The Pomona and The Alcatraz, as well as our new Cauliflower Crust. But let's place our focus a little more on the how and why.
When we set out to create new pizza combinations everything matters. Even things that may seem small or insignificant. For example, The UCLA is a great pairing of our Ultimate Red Sauce, double pepperoni and marinated portabella mushrooms. Our signature Ultimate Red Sauce and pepperoni are the same for other creations, but we didn't just pick random mushrooms to throw on top of a pizza. We wanted to find the right size mushroom to fit on the pizza. We tested several different types before finally settling in on the version you see on your pizzas today. In shorter words, we ate and ate and ate pizza until we felt we were able to deliver you the best pizza.
However, we didn't stop with finding the perfect size. Like everything we do, we want to provide our guests with the full experience. Once we narrowed down the right type and size mushroom, we started looking at the most desirable flavor profile, not just of the mushroom itself, but for the whole pizza. After eating another dozen or so pizzas, we happened upon a wonderful smoky flavored marinade that pairs extremely well with our Ultimate Red Sauce and the spices of our pepperoni.  We brought all these together with smooth mozzarella cheese. If you haven't tried the UCLA, you should put it on your priority list. Your taste buds will thank you for it.
We followed the same approach when we started looking at putting a cauliflower crust on the menu. Now, if you have ever attempted to make a cauliflower crust pizza at home you know how difficult this can be. Of course lately, there is no shortage of advice to be found on Google or Pinterest regarding creating the best flavored or the perfectly cooked cauliflower crust. Creating a single crust at home takes hours to produce for a family. So we began the search. We searched for a recipe that we could consistently create Ultimate California Pizza quality pizzas with. This meant we got to eat a lot more pizza! Let me tell you, some were a lot better than others.  After many tastings with different topping combinations we finally settled in on the 10" shmedium size crust you can order now. It is the perfect blend of texture and flavor to host any of our gnarly combinations or even to build your own.
It might be hard to imagine but we approach every decision that we make for our menu and our restaurant in this fashion. Try to think of the hours we have spent over the years as we have selected 4 different crusts, 9 different cheese options, 11 sauce options, and 39 different toppings. It's a good thing we love to eat pizza!