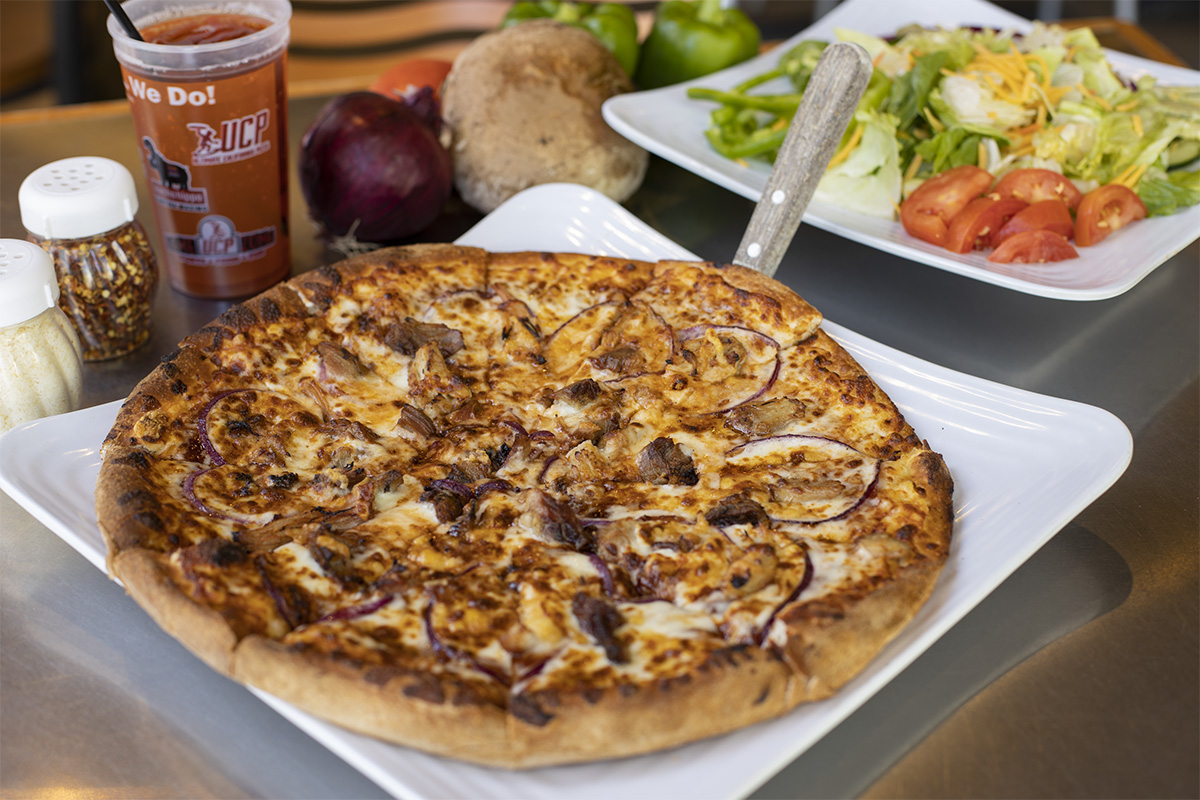 Some people dream of playing on a championship football team, some of winning the Kentucky Derby. Other folks have slightly less lofty goals; they want to drive a specific car, or live in a certain type of house in a certain neighborhood. I dream of different things. I dream about pizza and how it makes me feel. You see I absolutely love pizza. I look forward to eating it. I get excited when I know it is going to be on our rotation at home and I make a big deal out of it when I get to eat a pizza that lives up to my expectations! Well October is Pizza Month, so let's talk about a few of our pizzas that I get excited about.
Let's start with the Little Italy. I recently had the opportunity to try this pizza for the first time. The first thing that ran through my mind was, "WOW! What a great blend of flavors!" That thought was quickly followed by "Why have I waited so long to try this!" The problem with pizza is, even though there are an endless number of combinations, I tend to get stuck in a rut of ordering the same pizzas over and over again because I like what I like. But the blend of Italian sausage, fresh red peppers, tomatoes and mozzarella cheese on top of a pesto sauce was just a beautiful mix to process. This is a pizza I will definitely order again.
Now if you are like me, and you really just like food, then pulled pork and barbeque chicken are probably favorites for you too. Well, UCP likes those items enough to layer them on a pizza with some delicious red onion, mozzarella, Monterey jack and a Sweet Baby Ray's BBQ sauce for the base. Just like that, it's a messy food with a handle! Can it really get any better than that!
This next one I know I'll get some flak for because it's a very simple traditional pizza, but the Ultimate Pepperoni simply makes me happy. I know, I know. It's a pepperoni pizza. Nothing special. But I like pepperoni and I like it when my pizza is loaded with pepperoni. The Ultimate Pepperoni Pizza is loaded with pepperoni. I'm here to tell you that sometimes, simple can be just as good as ornate.
Speaking of ornate…. How do I not mention THE BIG KAHUNA! I use all caps for this pizza because until you order it, and try to eat all of it…. by yourself…. you just can't grasp how much gets piled onto this pizza. Pepperoni, smoked ham, ground beef, Italian sausage, pork sausage, mushrooms, green peppers, onions, black olives, tomatoes, mozzarella and smoked gouda.
The last pizza I'll mention today is the Pasadena. I was looking at our menu the other day and was looking for something full of textures, but also something that was going to appease my palette. On top of that, we have challenged each other at the office to start ordering something new, so I had to look past my "go to" options. It is amazing what I found what I looked past the first few options on our menu. Normally, I don't make it past the first few offerings, but I found exactly what I was looking for in the Pasadena. A rich pizza with mushrooms, ground beef, mozzarella, swiss and hickory smoked bacon. It was exactly what I needed and didn't even know it!
This has been a fun journey discussing some of my favorite "Gnarly Creations". There are so many other options to try, and I didn't even get into the "Build Your Own Pizza Options". Now it's your turn. Tell us, what pizza combination makes you smile?