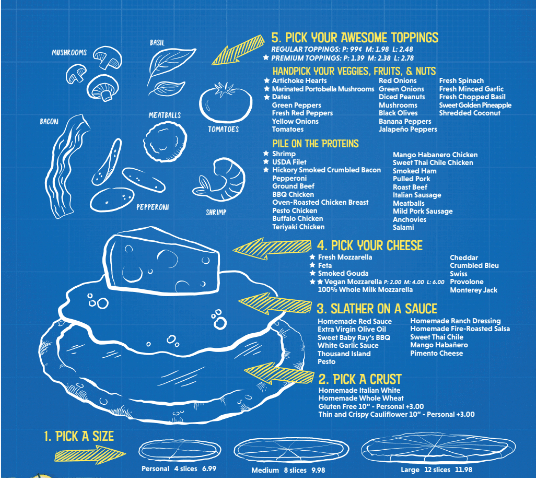 If you are anything like me, there are little mouths at your house that are extremely challenging to satisfy. Not necessarily because they are hungry ALL THE TIME, but because what they may love today they will hate tomorrow or even five minutes from now. At Ultimate California Pizza we are parents of picky eaters and we understand the stress of trying to not only find something our children will eat, but also giving them something with decent nutritional value that won't have them complaining about being hungry 15 minutes after you leave a restaurant. At Ultimate California Pizza, we have your solution. We have built our brand around creating the perfect pizza picky people love!
Regardless of what you are attempting to build, you have to have a good foundation. We have several for you to choose from starting with several crust options. Our traditional crust is our homemade Italian white crust. We also have a homemade whole wheat crust. Our crusts are made in house with our secret recipe to satisfy the flavor profiles of our pizzas and the taste buds of our guests. Do you have dietary restrictions? Don't fret. We have a 10″ gluten-free crust that is delicious. Looking for something lighter? Try our 10″ thin and crispy cauliflower crust, it will satisfy you for certain!
The next layer is just as important. It serves as a powerful flavor producer, but also helps to bring the crust and the toppings together. We have several sauce options for you to choose from. Each one brings their own flavor profile to the pizza and blends differently with different cheeses and the different crust options. Choosing a sauce should not be taken lightly. Your choices are: homemade red sauce, extra virgin olive oil, sweet baby ray's bbq, white garlic sauce, thousand island, pesto, homemade ranch dressing, homemade fire-roasted salsa, sweet Thai chile, mango habanero, and pimento cheese. Want a standard pizza with red sauce? We can do that. White pizza? We can do that. BBQ Pizza? We can do that. Mexican pizza? It is on the menu. Want to get spicy? We can make that for you also! We can make something for anyone!
Just as important as a good foundation and sauce layer, the finishing touches provide not only a beautiful masterpiece but the smiles we are all looking for when our meals are delivered. Those finishing touches are what bring families together or cause social media wars….. ie pineapple on pizza….. Well, we do serve pineapple on pizza and we have a few other controversial toppings as well. But we also serve toppings everyone loves like pepperoni. Pepperoni is the most common pizza topping in the United States! Our toppings are sorted into two categories. Proteins…and everything else. Our protein options are shrimp, USDA filet, hickory smoked crumbled bacon, pepperoni, ground beef, BBQ chicken, oven-roasted chicken breast, pesto chicken, buffalo chicken, teriyaki chicken, mango habanero chicken, sweet Thai chile chicken, smoked ham, pulled pork, roast beef, Italian sausage, meatballs, mild pork sausage, anchovies, and salami. We know that is a lot to choose from, but we have a promise to live up to. We promise to provide a pizza that even picky people will love. That means having lots of options for you to choose from. The other category of toppings includes veggies, fruits, and even nuts. Those toppings are: artichoke hearts, marinated portobello mushrooms, dates, green peppers, fresh red peppers, yellow onions, tomatoes, red onions, green onions, diced peanuts, mushrooms, black olives, banana peppers, jalapeno peppers, fresh spinach, fresh minced garlic, fresh chopped basil, sweet golden pineapple, and shredded coconut. Something for everyone. Something to satisfy every taste. Even those that are hard to please. Even those that are picky eaters.
You could work up an appetite just reading that list of options! We have created a menu for everyone. So you can satisfy anyone in your household. Looking for something new, try one of our Gnarly Creations. Looking to create something of your own, check out our Build Your Own Pizza section. There are so many combinations, you could get lost in the math. But we don't do math, we make pizza that picky people love!