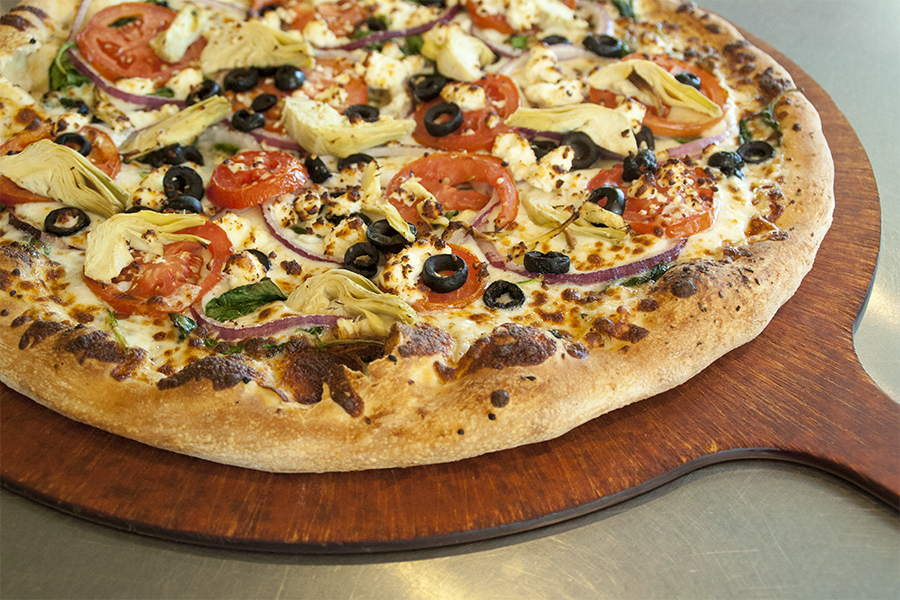 Here at Ultimate California Pizza we are always finding ways to best serve our customers. We believe pizza should be able to be enjoyed by everyone – including those with special dietary needs. Ingredients have been incorporated into our hand-crafted pizza making process and various items have been added to our menu so even vegans, vegetarians and gluten-sensitive customers can enjoy Ultimate California Pizza at all of our Grand Strand locations!
Vegan? No problem! We offer plenty of vegan-friendly menu items including our Baja Bread, the Hummus Dip, House Salad and Veg Head Panini. Our vegan pizzas we create still start with our made from scratch dough and then we utilize vegan-friendly ingredients including Vegan mozzarella cheese, tofu, a variety of fresh veggie and fruit toppings, as well as various herbs. The vegan pizzas on our menu include the Freakin' Vegan pizza, Hipster pizza, Polynesian pizza, Kung Fu pizza, and Athena pizza.
Vegetarian? Don't worry – we offer more than just fresh salads for you to munch on. Vegetarian menu items include Chips & Salsa, Spinach & Artichoke Dip, Malibu Greek Salad, and Caprese Panini. Our vegetarian pizzas are the Ultimate Cheese pizza, Berkeley pizza, Santa Cruz pizza, Margherita pizza, and California White Pie pizza.
Even gluten-sensitive customers don't have to settle when they eat at Ultimate California Pizza. We can create any of our specialty pizzas using a gluten-free pizza crust that is made by the Venice Baking Company. Gluten-free pizza crusts can even be ordered on our personal size pizzas!
Dietary restrictions are limiting enough and shouldn't keep you from enjoying a delicious, hand-crafted pizza! So whether you're vegan, vegetarian, gluten-sensitive, or just craving pizza – come to any of our six Myrtle Beach locations and taste why our pizzas have been voted 'Best of the Beach' year after year. And if you don't feel like leaving home, we deliver!