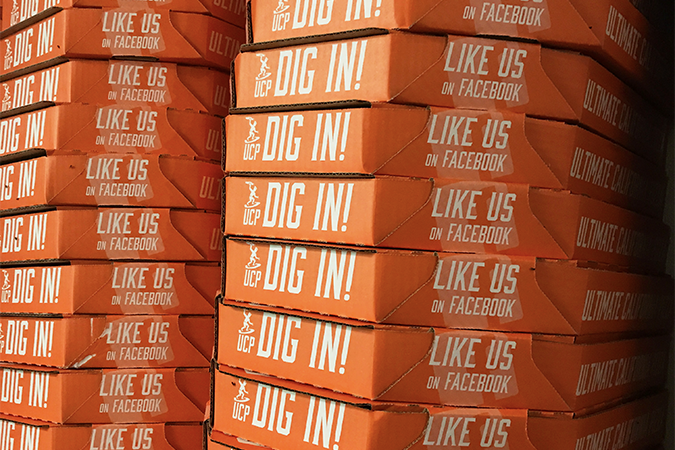 Have you had a long day and don't feel like cooking dinner for the family? Or maybe you're on vacation and after a day spent on the beach, you just want to relax and eat dinner on your oceanfront balcony. Watching the big football game and don't want to miss any of the action to pick up the pizza? Whatever the case – Ultimate California Pizza in Myrtle Beach has you covered!
Don't order from a chain when you can order pizza that's a favorite of locals and visitors alike! We handcraft every one of our gourmet pizzas – from out made from scratch dough to the fresh toppings we pile on top. We don't settle for ordinary pizza, and have designed a menu full of specialty pizzas to choose from including the Big Kahuna, Buffalo Chicken pizza, Big Sur pizza and more! You can even get creative with your toppings and create your own pizza. We also offer gluten free crust, vegan pizza and vegetarian options for those that have dietary restrictions. And don't forget we have paninis, salads, and plenty of appetizers we deliver as well!
At Ultimate California Pizza, we believe part of being a local pizza restaurant means being actively involved in our local Myrtle Beach community. We do our part to give back by being involved in the Myrtle Beach Seahawk Booster Club. Each football season, we prepare pizzas and deliver them to the Myrtle Beach High School concession stand for some of their Varsity and Junior Varsity football games. Nothing like helping fuel the fans to cheer their Seahawks on to victory!
If you're looking for a place to call to get 'Best of the Beach Pizza' delivered right to your door – look no further than Ultimate California Pizza. With six locations conveniently located around the Grand Strand, a handcrafted, high-quality, local pizza is a simple phone call away. Give us a call today!