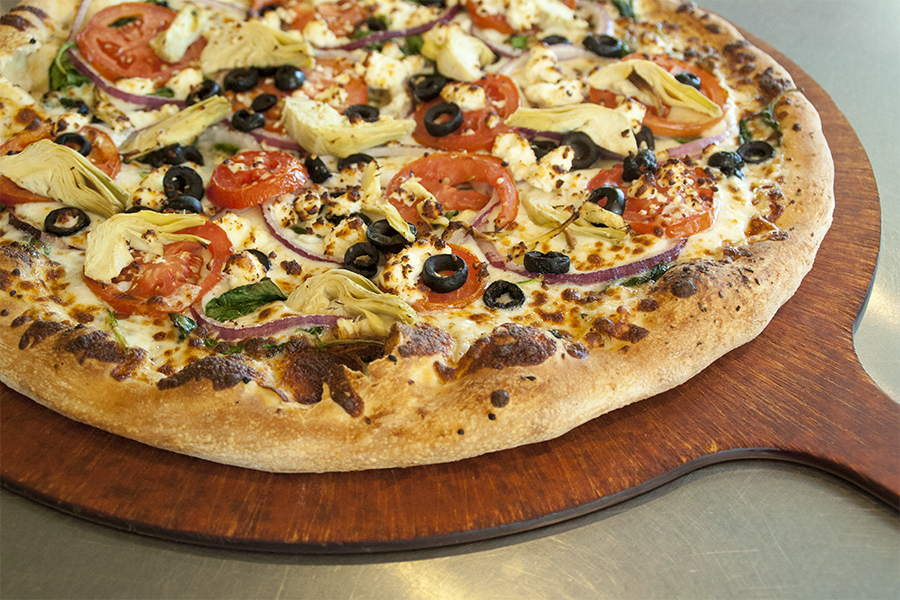 Innovation, quality, excellence and great hospitality are at the core of everything we do at Ultimate California Pizza. As a restaurant, we pride ourselves on offering a family friendly environment that offers exceptional handcrafted food. We aim to provide each and every guest we serve with outstanding customer service. At Ultimate California Pizza, our aim is to ensure you have a first rate dining experience. We also want it to be convenient for the guest to enjoy our handcrafted food items so we offer dine in, carry out and delivery options at each of our six locations around Myrtle Beach. We've even taken the meaning of convenience to another level by delicately freezing and shipping our products to customers in other states!
And it's not just about pizza at Ultimate California Pizza. We are immersed in our community and dedicated to not only serving our customers award winning food, but serving them through our philanthropic efforts as well. We support the booster clubs at the local Myrtle Beach schools including Socastee High School, Myrtle Beach High School, and St James High School. UCP has donated 1500 gift certificates to area schools that entitle the holder to a free kid's meal. These Student Excellence Awards cards are given out for grades, attendance, book club, Spirit Awards, as well as other achievements.  We believe in giving back to local charities and year after year we have participated in the Monday After the Masters, Taste of the Town, Make-A-Wish Golf Tournament, Know Your Score, 2 Live Beyond tournaments and have helped raise money and partnered with various organizations that benefit others on national and local levels.
You may have spotted a star when dining at Ultimate California Pizza, as we've welcomed numerous celebrities when they've visited Myrtle Beach. The legendary Arnold Palmer was in town for the Monday After the Masters tournament and was noted saying, "This pizza is a hole in one." Heavyweight boxing champ Gerry Cooney gave us a challenge when he said, "This pizza better be good or I'm gonna knock you out, chump." Lucky for us, no punches were thrown and he said it was the best pizza he had ever had.  
Our greatest passion is serving our customers a quality and delicious product. Pizza is in our name and it's something we take seriously at Ultimate California Pizza. We've taken special care in perfecting our pizza making process. Our dough is made from scratch daily and we hand select fresh ingredients for our toppings. The sauce we use is from a secret recipe we created that originates 3,000 miles away in Modesto, California. We have reserved fields there that grow our tomatoes and turn those tomatoes into our signature recipe – that are then shipped directly to us.  
But just because we have a traditional pizza making process, doesn't mean we don't have fun in the kitchen and don't think outside the pizza box. We've incorporated and maintained creativity in our brand since 1989 and are always seeking ways to keep our customers on their toes. We've been known to create unexpected combinations like smashed potato pizza, hot dog and chilli pizza, apple cinnamon dessert pizza, and even filet and shrimp pizza. That same innovative spirit goes into the creation of our menu, which is not only diverse but constantly changing as we seek to satisfy the needs of our customers. We now offer gluten free, vegan and vegetarians options to accommodate those with dietary concerns.
Our consistency in serving quality pizza hasn't gone unnoticed around the Grand Strand. Not only are we a favorite of locals and visitors alike, we've managed to earn a few various awards and accolades. We've been awarded the Myrtle Beach "Best of the Beach" Pizza for the past 18+ years, been selected by Myrtle Beach Golf Digest as a favorite pizza place in Myrtle Beach, and have been voted Best Pizza in Myrtle Beach by the Myrtle Beach Herald.  
Now that you've taken a peek into what "ingredients" make up Ultimate California Pizza – be sure to check out our specials page for incredible deals the whole family will love. And no matter whether you give us a call, order online or visit one of our six locations around Myrtle Beach – be sure to give our award winning, handcrafted pizza a try!