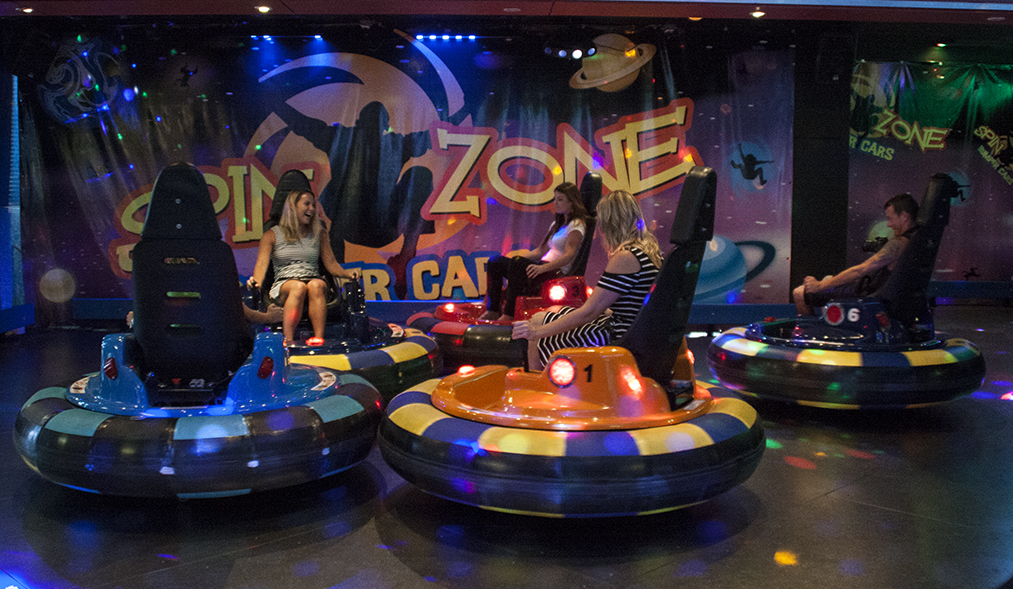 The annual Substitute 4 Santa event in Myrtle Beach was a huge success. Held on December 5th, the Divine Dining Group was proud and pleased to have been able to raise over $10,000 for this amazing cause. This money that was raised went to helping over 150 underprivileged kids in Horry County have a Christmas.
This year's Sub 4 Santa event began with a Christmas package that featured "An Evening At Ultimate California Pizza Game Zone". This evening included a pizza buffet dinner, along with video and arcade games, interactive games, redemption games, bowling & plenty of turns on the bumper cars in our SpinZone. After dinner and games, everyone headed to go shopping at Walmart where each of the kids was given a $100 gift card that was then redeemed for "needs", as well as "wants".
Not only did each child get to shop with their volunteer for presents and clothes, each of them were given a UCP Game Zone "goodie bag" that was filled with 1 gift certificate good for a free meal at either Ultimate California Pizza, River City Cafe, UCP Game Zone, or Nacho Hippo, 1 free round of putt-putt at any of the Burroughs & Chapin miniature golf courses, household essentials such as shampoo, baby wipes, a fleece blanket, laundry detergent, soap, and toothpaste and toothbrush.
Despite all the fun and games, at the heart of this Sub 4 Santa event is fundraising. We are proud to be a part of the Myrtle Beach community, which is such a giving and compassionate area. Our goal of $10,000 would never have been met if it wasn't for the support of some amazing businesses along the Grand Strand that we would like to take a moment to thank including Coastal Staffing of Georgetown, Brittain Resorts & Hotels of Myrtle Beach, Vacation Myrtle Beach and Car Depot of Myrtle Beach.
Not only did we have support from the community, but the Sub 4 Santa fundraising event is truly a team effort and wouldn't be possible without the passion of each and every one of the Divine Dining employees. That being said, there are a few people that we as part of the Divine Dining Group, would like to personally give a shout out to for playing a huge role when it came to helping us reach the $10k level. We would first like to thank our fantastic staff who did a tremendous job in each of our restaurants to raise almost $6,000. This event wouldn't be possible without their drive and dedication. We also want to give a special shout out to Dawn Walters from the River City Cafe in Murrells Inlet who went above and beyond and helped raise the most money during the Sub 4 Santa fundraising event. Dawn was followed closely by Susan Shingleton from Ultimate California Pizza in Barefoot Landing and Jen Doughty from Ultimate California Pizza on 25th Avenue in Myrtle Beach, who helped raise the 2nd and 3rd most money for the event.
We would also like to take a moment to thank all of the volunteers from throughout the community as well as GS Scene and the Chamber for making this event possible. With the heart of the Christmas season truly being about the "Spirit of Giving", we at Ultimate California Pizza Game Zone and the Divine Dining Group, are proud and humbled to be a part of such a special cause. We are still beaming from the success of this year's event and look forward to the Sub 4 Santa event that will be held next December in Myrtle Beach.