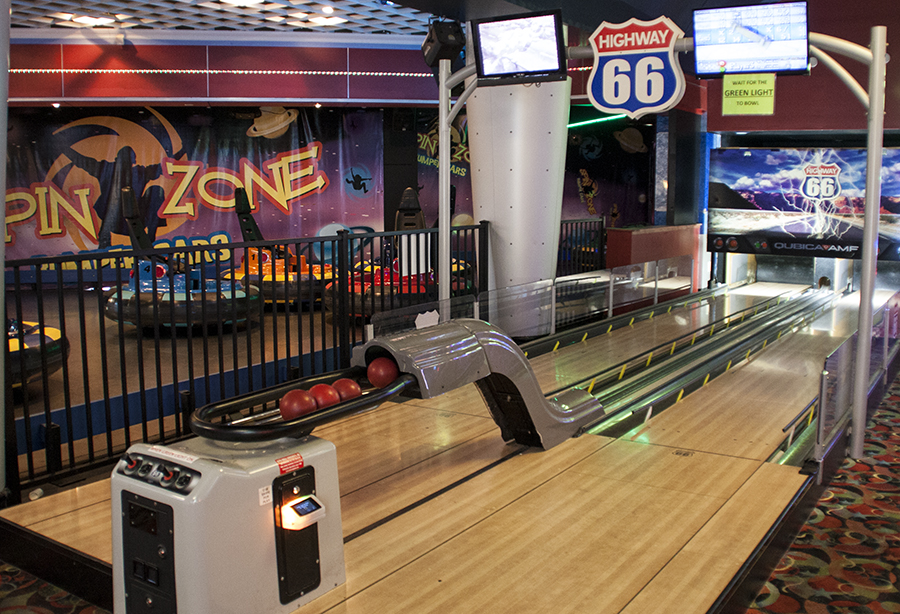 Valentine's Day is right around the corner and will be here before we know it! Whether you're trying to plan a date night, a fun gathering with friends, or take the kids out for a special night, you can find everything you'll need for an evening full of entertainment at Ultimate California Pizza Game Zone in Myrtle Beach.
Good food? Check. Quality time with your loved one? Check. Cheaper than dinner and a movie? Check. Forget about the over-priced dinner and a movie this year. Instead of spending a fortune on flowers, load up a game card and see challenge one another to see who who can get the highest score! Nothing like a little friendly competition on date night! Go shot for shot with your date with a game of Hoop Fever or satisfy your need for speed with a high-paced game of Cruis'n Blast. Or work together to wipe out zombies with bow and arrows in the Walking Dead interactive game.
After you've worked up an appetite trying to impress your date with your gaming skills, take a seat and enjoy each other's company over a heart-shaped pizza. There's no need to break the bank on an overpriced candle-lit dinner when you can dine on gourmet 'Best of the Beach' pizza. Our tasty crust is made from scratch every day from a secret recipe. And with more toppings than you could ever dream of, every bite is packed full of flavor! Throw on a fun filter and you've got the perfect Instagram worthy Valentine's dinner!
Skip the box of chocolates – a prize from our Prize Center will be even sweeter! While you're impressing your date with your skee-ball skills, you can rack up tickets to win them a Gumball Mini Pinball Machine or a pretzel shaped pool float. We have all sorts of prizes to choose from including the latest stuffed animals, tons of candy, disco lights and other fun novelty items! Getting your loved one flowers will be a thing of the past once they get a look at all our prize options!
For all you father's out there, show your daughter's some love with a trip to UCP Game Zone for a night full of pizza, games and prizes! There is no better place for a Daddy-Daughter date. You can show off your strength at the Whack-N-Win while your little girl plans out what prize she wants to take home! Challenge each other to a friendly game of bowling or see who can race the water up the pole the fastest in our Water Gun Race game. And she'll love getting to drive her own bumper car while bouncing and spinning around the Spin Zone. After you've gotten your fill of games, you can enjoy a dinner of pizza, wings, and more while you spend some quality time with your daughter. And don't forget to cash your tickets in for some great prizes before you call it a night!
Valentine's Day doesn't have to be filled with roses, expensive dinners, and candle light to be fun. You can spread the love, and spare your bank account, when you spend your evening at Ultimate California Pizza Game Zone. Instead of spending too much money on a movie ticket, drinks and popcorn – load up a gameccard and spend an evening filled with games and non-stop entertainment! Valentine's Day doesn't have to be expensive, but it still should be fun! Grab your sweetheart and treat them to a night filled with laughter, great company, and even better food!