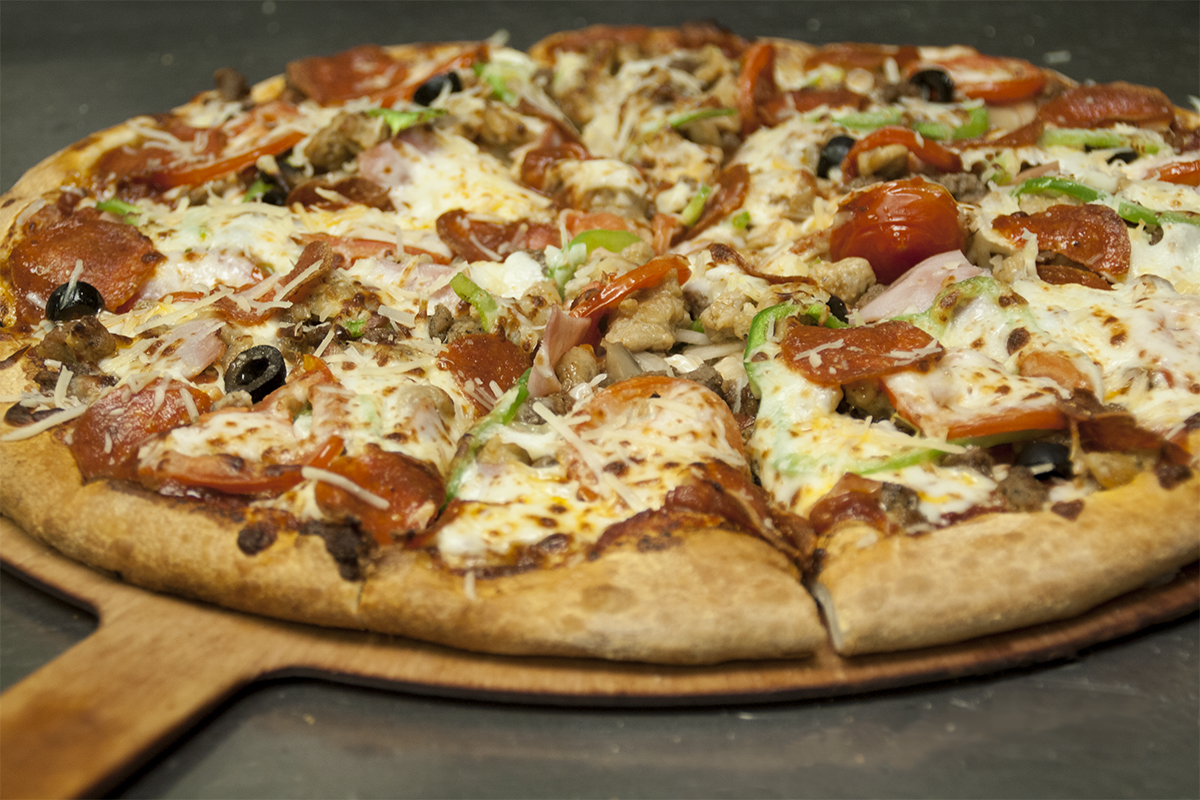 Our 'Best of the Beach' pizza is the one for you; no matter what you're craving! While there are plenty of pizza spot vying for your attention in Myrtle Beach – here's a short list of why Ultimate California Pizza is not only the local's choice – but the best pizza in the area!
Hand tossed, homemade dough
Our pizza is the best simply because we begin with a fresh foundation. The dough for our crust is hand tossed and always homemade. Everyday we begin from scratch and create the perfect flavor and crunch for every bite you indulge in!
Proprietary sauce recipe – Ultimate Red Sauce
Ooh, saucy! Our special sauce is what makes our pizza the Ultimate best! The tomatoes we use come from a special farm in, yep you guessed it, California! They are handpicked when they're at their peak freshness and mixed in with our secret herbs and spices to create our Ultimate Red Sauce. This is another key ingredient in creating our 'Best of the Beach' pizza.
100% Whole Milk Mozzarella in every pizza
Extra cheese, please! We only use 100% whole milk mozzarella for our 'Best of the Beach' pizza, so no wonder it's the best. None of that fake cheese for us. You'll notice the difference from just one bite and you'll be craving another piece!
Soooooo many toppings to choose from
Whatever mood you're in, our variety of fresh pizza toppings will hit the spot every time. The options range from the average joe's pepperoni or sausage to dates and coconut! We even have a peanut butter and jelly flavor the kids will adore. Dining with a picky eater? Now you can order a half and half pizza so both of you can be satisfied. The only problem with so many toppings is deciding which toppings you want on your pizza. But hey – you can always order two for more flavor combinations!
Every inch of our pizza is handcrafted and made to order
Wondering if we can create a pizza to satisfy your dietary needs? Because we craft our pizzas by hand and make them to order, we have options for vegans, vegetarians, and gluten sensitive. Our pizzas can be created in a personal size if you're dining solo, or larger so you can share with friends and family! Whatever your need is, we can make you the perfect pizza!
There are still plenty of other reasons why our pizza is the best in Myrtle Beach. But instead of boring you with all the cheesy details – we think you should come on by and try a slice for yourself! Check out any of our six Ultimate California Pizza locations along the Grand Strand where you can dine in, carry out, or we'll deliver right to your door.