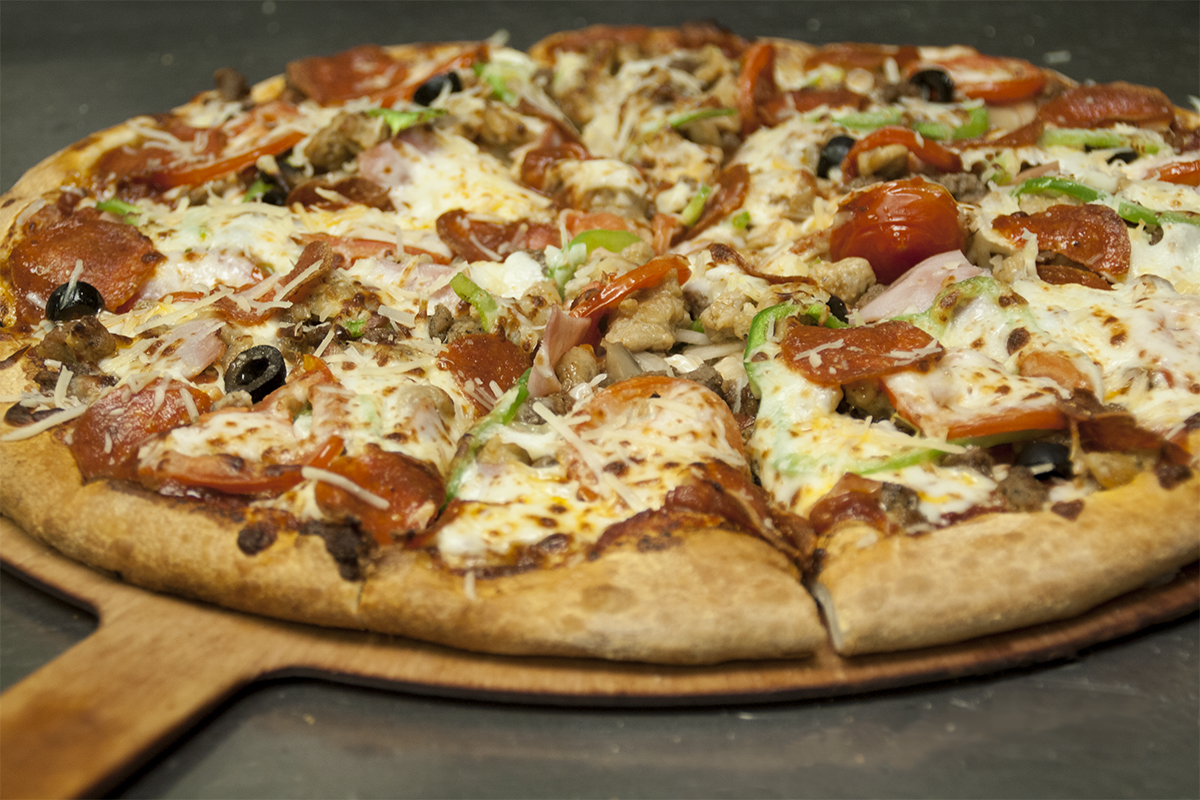 Ultimate California Pizza is the local's choice for handcrafted pizza. And one of their six Myrtle Beach locations just happens to be an arcade and pizza joint all rolled into one. At Ultimate California Pizza Game Zone – we've got all the delicious perks of serving the 'Best of the Beach' pizza and offering tons of exciting arcade and interactive games as well as the hottest new prizes! Here's just a few reasons why our pizza is the best around:
Hand tossed, homemade dough
Our dough is the foundation of our perfect pies. That is why we make it fresh every day and allow you to choose how you want it. Whether it's thick or thin we have you covered! You can never go wrong with hand tossed and homemade dough.

Proprietary Sauce Recipe – Ultimate Red Sauce
Next up, is our Ultimate Red Sauce. Made with fresh tomatoes and a special blend of herbs and spices, the sauce is the next layer of perfection for our Best of the Beach pizzas! It compliments perfectly with our crunchy homemade crust and the creamy mozzarella cheese!

Sooooo many toppings
To top it off, we have a variety of toppings you can choose from! We have all the classics like pepperoni and sausage but we also provide some unique flavors from dates, coconut, and even a PB&J flavor the kids will go nuts for! And don't worry, if you can't decide on topping combinations you can customize the pizza half and half with a variety of topping choices.Our cheese is made from 100% whole milk mozzarella and is so delicious you'll want to add an extra sprinkle to your pizza!

Every inch of our pizza is handcrafted and made to order
There's plenty of reasons why our pizza is the greatest, but the bottom line is our pies are fresh. Everyday we use the ingredients to craft your perfect pizza and they are always made to order for you! Whether you're in the mood to share or just want your own personal sized pizza, we can customize sizes, toppings, and make special substitutions for any dietary restrictions.

Leave with a prize
After fueling up with our 'Best of the Beach' pizza, try your hand at any of our exciting games! At UCP GameZone you can challenge your friends and family to a classic game of skee ball, battle zombies at the Walking Dead, or try something new like bowling for strikes our virtual bowling game! Everyone is sure to find something they love from our selection of prizes and cherish the fun memories for a lifetime!
What are you waiting for? Grab the kids and head over to UCP Game Zone for a exciting meal that's fun for the whole family!