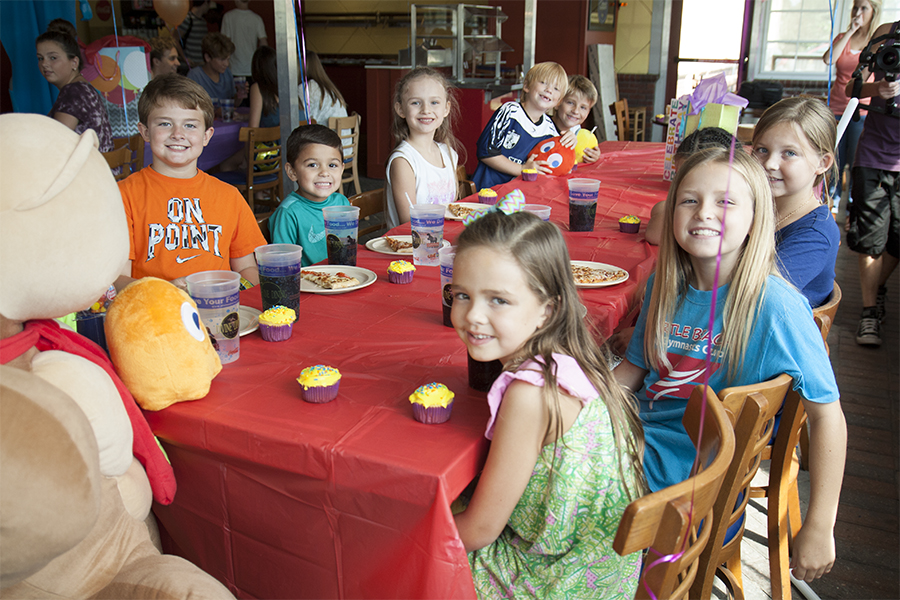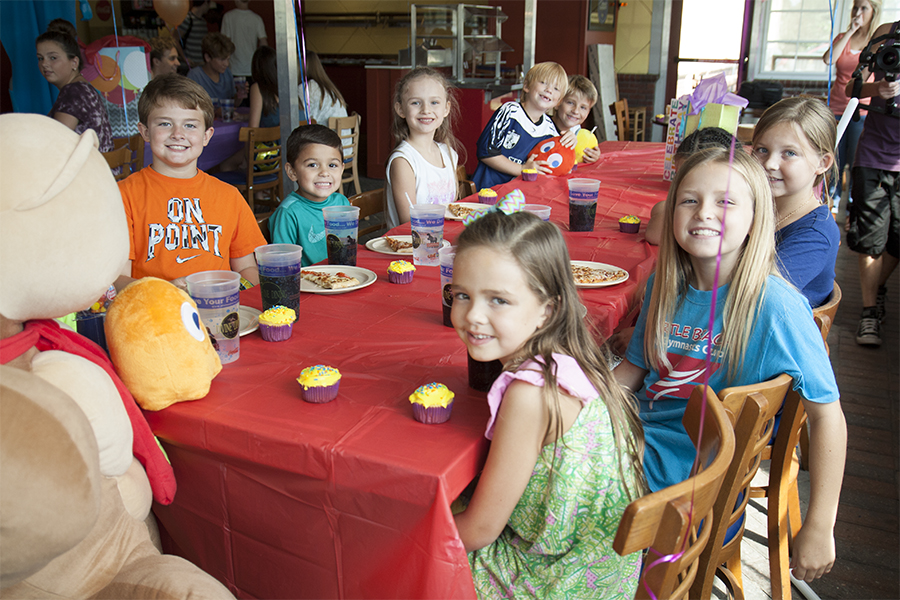 Don't settle for a boring dinner when you could choose one with exciting games, handcrafted pizza and prizes! Ultimate California Pizza Game Zone has everything you need to create a dinner experience that's fun for the whole family. Here are the Top 5 Reasons why UCP Game Zone is the place to eat and play in Myrtle Beach:
1. Parties
If there's one thing we know how to do at UCP Game Zone, it's party. Whether you're in charge of planning a team building activity or your child's birthday party – we have everything you need to create an awesome party experience. Plus we have the best party deal in Myrtle Beach at only $10.99 per guest! We make planning the party super easy and our packages are a party planner's best friend because we supply the pizza, drinks, game cards for game play, and plenty of fun for everyone! And where else can everyone at the party leave with a prize?
2. Games
At UCP Game Zone, we've got the top interactive games that provide hours of entertainment. Our game cards  make it easy to swipe to play games as well as keeps track of all the virtual tickets you win. Transport back in time in the Jurassic Park game, battle zombies in the Walking Dead, or take on a mission as a special force agent in Target Bravo. When it comes to bowling, you can bowl strikes on the virtual Lane Master or on Highway 66 Bowling.  If you've got a soft spot for the classic games, we've got Space Invader, Skeeball and Dueling Hoops. Into friendly competition? Grab your friends and take aim as you race to the finish in the Water Shooter racing game. There are carnival style games and we've even got a Spin Zone with spinning bumper cars that are fun for all ages. Games are a great way to interact with your kids and make memories together!
3. Pizza
If you're into mouth watering, made from scratch pizza – then you've come to the right spot! Our pizza is a labor of love, from start to finish. UCP Game Zone may call Myrtle Beach home, but our vine ripened tomatoes come fresh from our private farm out in California. We then add a blend of herbs and spices to create our infamous red sauce. Our dough is made from scratch daily, and we only use the freshest ingredients to pile on top of our pizzas. We cater to dietary restrictions and offer vegan cheese options and a gluten sensitive crust. These are just a few of the reasons why we're known for creating the 'Best of the Beach' pizza.
4. Family Fun
UCP Game Zone is all about family fun. They say memories are made around the dinner table and we've got plenty of delicious food to converse over. Besides made from scratch pizza, we serve sandwiches and fresh salads. We offer exciting games that are fun for all ages. There's nothing like challenging the family to a little friendly competition to see who will win the most tickets. See who has the best aim in the Water Shooter game or Space Invaders. Duel it out over the Wave Air Hockey table, that's shaped like a wave for an added challenge. And make sure to check out the Spin Zone where everyone can enjoying laughing, bumping and spinning around together. Between battling it out over games and digging into our there's no age limit on fun at UCP Game Zone!
5. Prizes
It may be the last stop you make before you leave, but it's one of the most exciting parts of the gaming experience. After battling it out and testing your skills, it's time see how many tickets you've accumulated. Our giant Prize Center is full of the hottest prizes! We have everything from NBA and collegiate team basketballs, stuffed emojis and pretzel pool floats to gumball machines, Nintendo products and spinners.
These are just a few reasons why you should eat and play at UCP Game Zone in Myrtle Beach. Come see for yourself how we make dining so much fun!