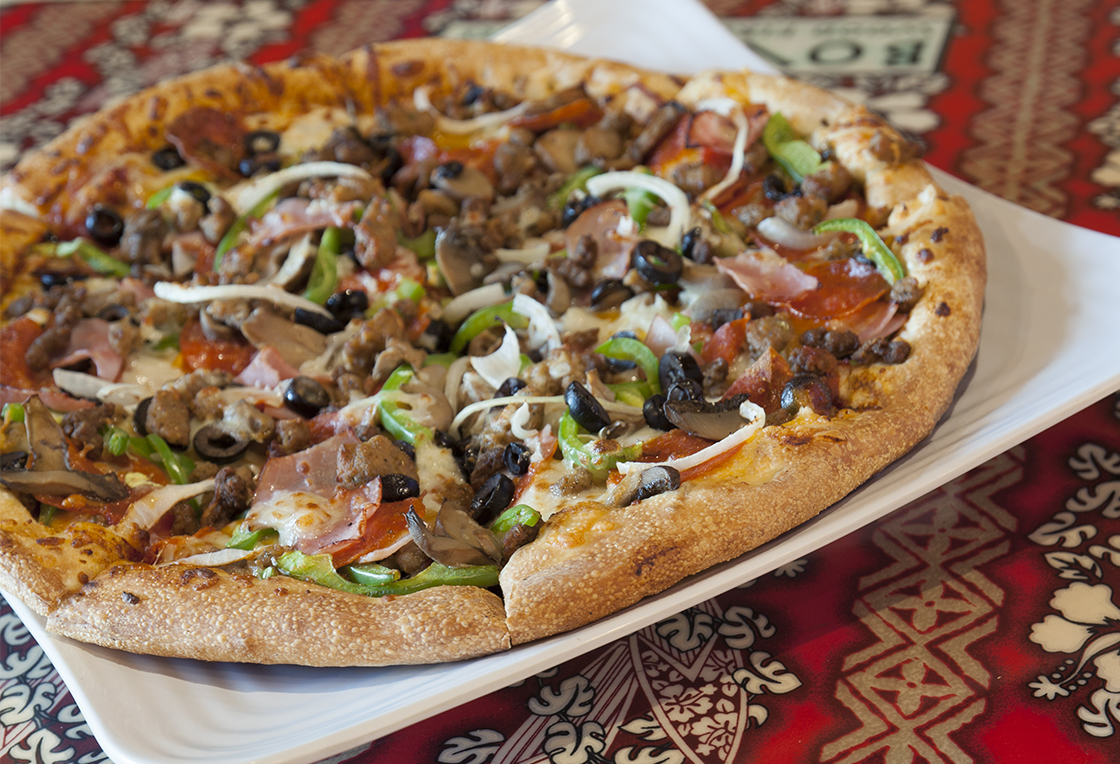 When choosing a place to grab lunch or dinner in Myrtle Beach, the options and varieties are endless! But if you're looking for a place that everyone is sure to love – look no further than Ultimate California Pizza! We've got the best of both worlds (and the 'Best of the Beach' Pizza) with dishes that will satisfy any craving all while keeping the whole family happy.
Our pizzas are handcrafted and made to order. We start with our made from scratch dough – creating the best base for every pie. We have our red sauce which is comprised of the freshest tomatoes picked right off the vine and shipped to us from our private farm in California. We mix in our secret blend of herbs and spices and voila – the Ultimate Red Sauce our fans crave! Not a fan of tomato based pizza sauce – well don't worry because we have other sauces available as well! Now that you have the basic two components of our pizza – it's on to the fresh toppings, where you can really get into customizing your order.
Big Kahuna Pizza
For those of you that love to load up their pizza with toppings – let us introduce you to the Big Kahuna. And believe us, there's a reason we named this monster the Big Kahuna! One of Ultimate California Pizza's best sellers, this pie is piled high with toppings. There's meat, veggies, cheese – literally the Big Kahuna is topped with everything but the kitchen sink! We start off with our Ultimate Red Sauce and then pile on pepperoni, smoked ham, ground beef, Italian sausage, pork sausage, sautéed mushrooms, crisp green peppers, onions, black olives, juicy tomatoes, mozzarella, and smoked gouda. With so many toppings on one pie – there is a taste bud explosion in every bite!
Ultimate Cheese Pizza
Cheese lovers unite! For those of you who like to keep things basic and have a more simple palette, we've got the perfect pie for you. We start off our Ultimate Cheese Pizza with smooth Ultimate Red Sauce, and sprinkle on mozzarella, cheddar, Monterey Jack, and provolone cheese. With so many cheesy, gooey flavors you'll have trouble eating just one slice! Plus – there are so many cheeses piled on – you're guaranteed to get that perfect cheese pull Insta-worthy photo!
All these mouth-watering details causing your stomach to rumble? Head to one of our six locations around Myrtle Beach to get your pizza fix! And with options to carry out, dine in or delivery – a one of a kind 'Best of the Beach' pizza is never far away!